Over his vast clinical experience, Dr Anurag Gupta, has noted a steady rise in the number of adult patients in his practice. These adults donot want visible braces like kids and adolescents wear.
For such patients, Dr Anurag Gupta, offers Invisible Orthodontics or lingual orthodontics, in which the braces are placed on the back side (tongue side) of the teeth.
Adult patients are ecstatic to find that even they can get their crooked and/or spaced teeth corrected at such mature age.
Dr Anurag's invisible braces patients come from a large age range of 22 yrs to 58 yrs.
Who is a candidate for Invisible Braces?
Adults of any age with crooked , spaced , irregular teeth
Those adults who cannot have regular visible braces due to their social commitments
Adults who are motivated to get the best smiles they ever wanted
They have good bone conditions
The most common sign and symptoms which bothers the parents or patients themselves are:
Forwardly placed front teeth
Crowded upper and/or lower teeth
Irregularly placed teeth
Bad bite/ unusual bite
'Dracula-like' teeth
'Bugs-bunny' teeth
Missing or non-erupted teeth


While many of these tooth alignment problems are potentially harmful for your tooth structure and gums, the patients suffering from these generally are:
Conscious about their unsightly smile
Suffer from low esteem
Are not confident while interacting with others.
Kids feel that something is wrong with them and they stay away from peer group.
Some Cases - Invisible Braces Treatment at Maximus Dental
Patient Name: LK, 31 yrs.   Patient having a large space between her front teeth, wanted invisible braces before her marriage. Invisibile braces treatment in progress for 8 months.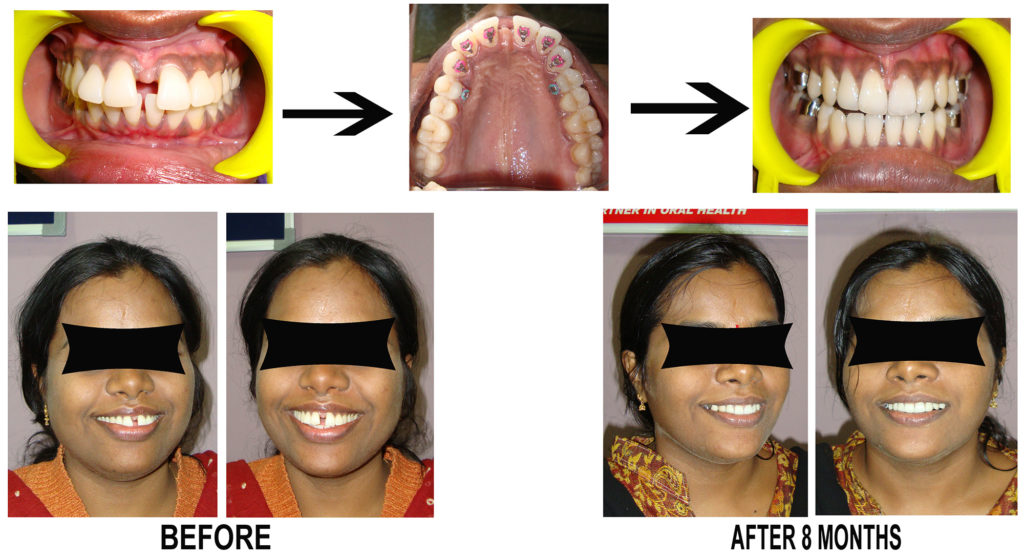 Patient Name: AR, 25 yrs/ F Patient was getting married in 9 months. Wanted perfect smile before her marriage. Non extraction invsible braces brought the best smile. Total treatment time: 9 months.

Successful case report of a 27 yrs old Delhi girl, who took invisible braces treatment at Maximus Dental.